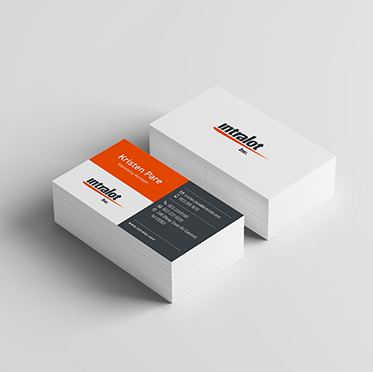 Intralot's Business Card Redesign with Online Media Interactive

.
Client Background: Intralot is a global gaming company that offers a wide range of lottery and betting solutions to customers around the world. With a strong presence in multiple countries, they are known for their innovative gaming products and services.
Challenge: Intralot approached Online Media Interactive to help them redesign their business cards. As a company that values professionalism and innovation, Intralot wanted their business cards to reflect their brand image and make a lasting impression on their potential clients and partners. They had previously worked with OMI on a number of other graphic design projects and trusted our expertise and creativity.
Solution: We kicked off the project by conducting a thorough analysis of Intralot's existing business cards and understanding their brand identity, target audience, and marketing goals. They collaborated closely with Intralot's marketing team to gather insights and feedback on the desired design direction.
Based on the inputs received, OMI came up with a fresh and modern design concept that incorporated Intralot's brand colors, logo, and key messaging. The design was visually appealing, with a clean layout and easy-to-read typography. They also recommended using high-quality printing techniques and materials to ensure the business cards had a professional and premium look and feel.
Intralot was impressed with the design concepts we created and provided valuable feedback that was incorporated into the final design. The redesigned business cards were delivered within the agreed timeline and budget.
Results: OMI's business card redesign received overwhelmingly positive feedback from Intralot's team and stakeholders. The new design captured the essence of Intralot's brand identity and created a positive impression among their clients, partners, and stakeholders. The high-quality printing techniques and materials used added a touch of sophistication to the business cards, elevating Intralot's professional image. The redesigned business cards became an effective marketing tool for Intralot, helping them make a memorable impression and establish their brand presence in the competitive gaming industry.
Conclusion: Intralot's collaboration with OMI on their business card redesign was a success. The expertise, creativity, and attention to detail we demonstrated resulted in a visually appealing and professional business card design that aligned with Intralot's brand image and marketing goals. Intralot continues to work with Online Media Interactive on other graphic design projects, confident in their ability to deliver outstanding results.