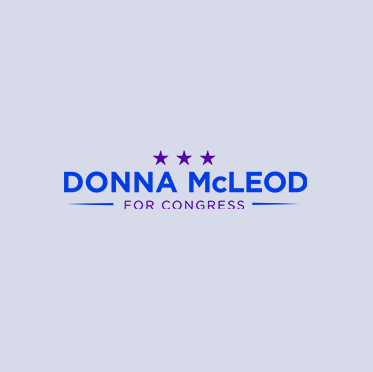 Donna McLeod for Congress.
Background: Donna McLeod, a dynamic and passionate politician from Gwinnet County in Georgia decided to run for Congress as a representative from Georgia's District 7. Donna knew the importance of building a strong brand identity that would capture the essence of her campaign and resonate with potential donors and volunteers. She sought the expertise of a professional design company to create a logo that would effectively communicate her message and help establish her campaign as a credible and compelling choice for voters.
Challenge: Donna approached OMI,  with the task of creating a logo that was clean, professional, and unique, yet in the style of a typical political campaign logo. She wanted the logo to be visually appealing and memorable, capable of capturing the attention of potential donors and volunteers in a crowded political landscape. The logo needed to be versatile, suitable for use on various campaign materials such as banners, yard signs, social media, and other promotional items.
Solution: OMI's team of skilled designers and branding experts collaborated closely with Donna to understand her vision and goals for her campaign. We conducted research on her target audience, analyzed the logos of other successful political campaigns, and studied the local political climate to inform their design approach. After several rounds of ideation and feedback, OMI presented Jane with a range of logo concepts that met her requirements.
The final logo design features a simple and powerful visual that symbolized Donna's commitment to progress and change.  The logo's color palette was carefully chosen to evoke a sense of trust, and integrity, but to fit Donna's brand vision. 
Result: The logo designed by OMI for Donna's congressional campaign received rave reviews from both Donna and her campaign team.  The logo helped Donna establish a cohesive and recognizable brand identity, which helped her campaign stand out in a crowded political landscape.