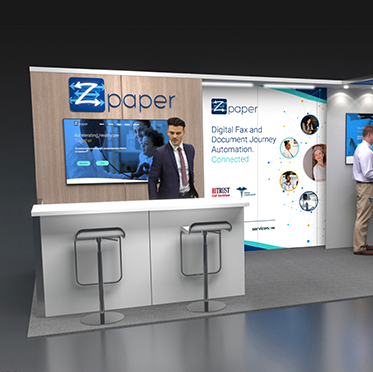 Zpaper Partners with Online Media Interactive for HIMSS Global Health Conference Booth Design

.
Zpaper is a leading technology company that specializes in innovative healthcare solutions, specifically in the field of digital health records and data management. With a strong presence in the healthcare industry, Zpaper is known for their cutting-edge software products that streamline healthcare workflows and improve patient care outcomes.
Challenge:
As Zpaper geared up for the highly anticipated HIMSS Global Health Conference in 2022, they recognized the importance of creating a captivating and engaging booth to showcase their products and services. Zpaper wanted a booth design that would stand out in the crowded conference hall, attract potential customers, and convey their brand message effectively. They were looking for a design that would capture their innovative and forward-thinking approach to healthcare technology and leave a lasting impression on conference attendees.
Solution:
Zpaper turned to OMI to help bring their vision to life. We had previously worked with Zpaper on a number of projects, including white paper designs and user interface designs, and had a deep understanding of Zpaper's brand and target audience.
The design process began with a thorough understanding of Zpaper's goals and objectives for the conference. OMI conducted in-depth research on the HIMSS Global Health Conference, analyzed the competition, and studied the latest trends in booth designs. They then collaborated closely with Zpaper's marketing team to come up with a creative and unique concept that would align with Zpaper's brand identity.
Once the concept was finalized, we began designing the booth. OMI created a visually stunning design that incorporated Zpaper's brand colors, logo, and messaging. The booth featured interactive displays showcasing Zpaper's products and services, as well as engaging graphics that conveyed Zpaper's commitment to innovation and excellence in healthcare technology. OMI ensured that the booth design was not only visually appealing but also functional and easy to navigate, with clear call-to-actions that guided visitors towards desired actions, such as scheduling demos or leaving their contact information.
Results:
Zpaper's booth at the HIMSS Global Health Conference in 2022 was a resounding success. The booth design created by OMI exceeded Zpaper's expectations and garnered widespread attention from conference attendees. The booth became a focal point of the conference, with attendees flocking to it to learn more about Zpaper's products and services.
The booth design effectively communicated Zpaper's brand message of innovation, reliability, and cutting-edge technology, and helped them establish a strong presence at the conference. Zpaper was able to generate significant leads, engage with potential customers, and build meaningful relationships with industry influencers and partners.
Conclusion:
Zpaper's partnership with Online Media Interactive for their booth design at the HIMSS Global Health Conference in 2022 was a resounding success. The creative and innovative booth design OMI created effectively captured Zpaper's brand identity, attracted potential customers, and helped Zpaper achieve their marketing objectives. This case study serves as a testament to the power of collaboration between a forward-thinking technology company like Zpaper and a skilled design agency like Online Media Interactive in creating impactful brand experiences at industry conferences.