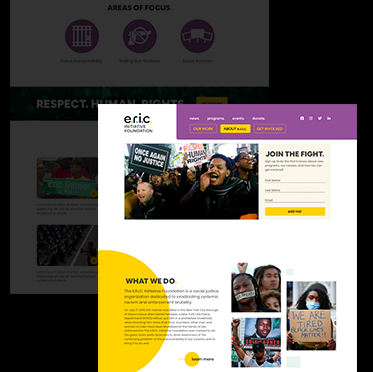 Helping Social Justice Organizations Create Their Brand.
Garner Way Foundation, a social justice organization founded in 2010 with a focus on advocating for police accountability and ending racial injustice, underwent a rebranding process to better align its brand with its mission and amplify its impact in local and global communities. The organization's new name, E.R.I.C. Initiative Foundation, reflects its commitment to Empowerment, Racial Equity, Inclusivity, and Community Engagement. The rebranding aimed to modernize the organization's image, strengthen its message, and expand its reach.
The E.R.I.C. Initiative Foundation came to OMI to help with creating their new brand, and to develop a strategy for launching it to the world. We built a brand new, modern WordPress website, and worked with them on a plan to breath life into it by curating content, and providing updates on the organization's work.