It was early in 2020 when our phones began to ring at OMI. We had clients who, unbeknownst to us, depended heavily on in-person events for fundraising, education and more. Covid-19 had suddenly thrown their ability to do any of that safely into doubt.
In particular, our non-profit clients were desperate to replace the expensive hotel events they were used to planning with something virtual that would allow them to continue to fundraise with their corporate supporters and engage their constituents and volunteers. Even in the age of online everything, most of them had no idea how to move their events from in-person to virtual.
And we didn't either.
Not entirely. Clearly we would need to make it easy for everyone to engage via a Zoom-like technology, but we also needed to simulate the experience of attending sessions, visiting sponsors and exhibitor booths, and a lot more. So we began our journey into developing a product offering that would quickly fit the bill for our clients.
On the surface, deciding how to deliver this service was like any other product launch – we had to do quick customer discovery, a brief competitive analysis, define the financial viability of the product, and identify how we would market the service. But most importantly, we had to decide which of the vast array of possible services we would actually provide.
This wasn't as simple as you might think. Some of our clients have full marketing departments, IT staff, and support personnel to plan and manage an event, but needed expertise specific to the conference technology. Others are 2-3 man shops with no internal capabilities whatsoever for delivering on a virtual event. We decided that for our first foray into this area we would focus on helping the organizations who were in crisis mode as a result of Covid-19 and provide both technical and administrative support services for their events.
Cayenne Wellness Center
Cayenne Wellness Center is an organization headquartered in Southern California, whose mission is to increase the quality of life for individuals diagnosed with sickle cell disease by ensuring expert, unbiased, and comprehensive care. Prior to Covid-19, Cayenne and their Executive Director, Dr. Carolyn Rowley had held eleven successful in-person events, with heavy sponsorship from Big Pharma, which were well attended by SCD patients and advocates from around the world. Turning her event into a virtual one had immediate benefits (cost savings, ability to scale, etc.), but came with a set of unique challenges.
First, their events are extremely content-heavy, which meant the management of several dozen speakers and panelists, including collection and management of presentations, pre-recorded content, and technical support. Similarly, the organization has many relationships with companies who pay for access to their constituent population, and so managing their sponsors' ability to meet and greet in real-time was critical.
Finally, there was the challenge of engagement – how to provide an informative, entertaining, and immersive experience that would provide value for attendees.
Whova to the Rescue
After having delivered a virtual event for a previous client, OMI decided to use Whova as the platform technology for the Cayenne Wellness event. Whova is a company who had previously marketed a mobile app for in-person events; they had recently expended their capabilities to allow for planning and executing virtual events via desktop as well, and in a cost-effective enough way to make them a viable solution for even cash-strapped non-profit organizations.
OMI worked with the Cayenne Wellness center to manage:
Registrations
Agendas & Schedules
Session Management
Sponsor Management
Exhibitor Management
Speaker Management (photos, bios and presentations)
Polls & Surveys
Live Session Q&A
Discussions & Community Boards
Gamification
Content Development and much more
The event was a resounding success – Cayenne Wellness met their fundraising goals for the event, and developed an engaging and inspiring set of experiences for its attendees that got rave reviews. Most importantly, the technology we setup and managed throughout the event allowed for an unprecedented level of engagement between attendees and sponsors: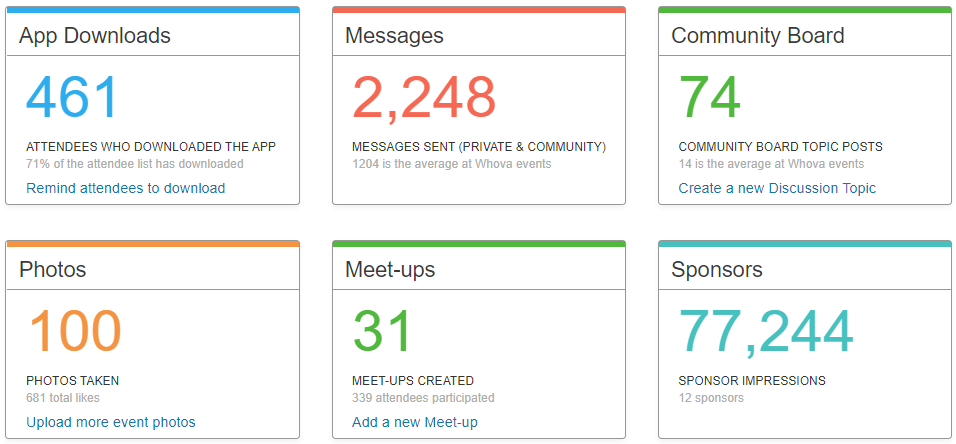 As a result, OMI was hired to help them execute the 13th Annual Sickle Cell Disease Educational Seminar in 2021, and we're in talks to expand our involvement even further for the 14th annual event in 2022. If you're looking for help with a virtual event, book a call with us, or contact us via email for a free consultation!